Parr: Eukanuba - Best of Opposite!
02/28/16 - Orlando, FL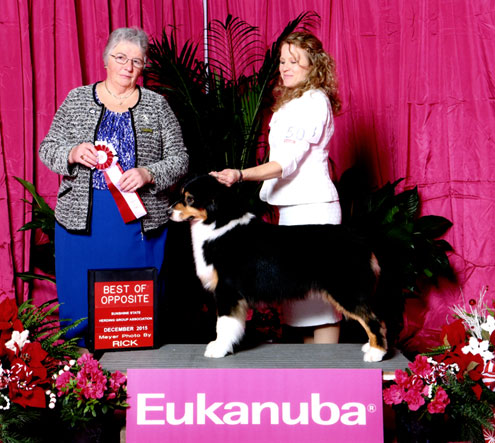 This past December I had the awesome opportunity to participate in the Eukanuba National Championship in Orlando, Florida. Both of my girls (Parr and Tinsley) had a very productive week. The highlight was Parr winning Best of Opposite at the Australian Shepherd Specialty.
A huge thanks to all my friends who supported and cheered us on. It was definitely a once in a lifetime experience!
Parr: AKC Champion!
12/06/14 - Marietta, GA
Parr finished her AKC Championship out of the bred-by class earning her Bred-by medallion. We are so happy with this beautiful girl!
Parr: AKC Champion!
10/26/14 - Marietta, GA
Parr, new Champion. Thank you to AKC judge, Mr. Charles Olvis.
Parr: WB/BOB
10/25/14 - Marietta, GA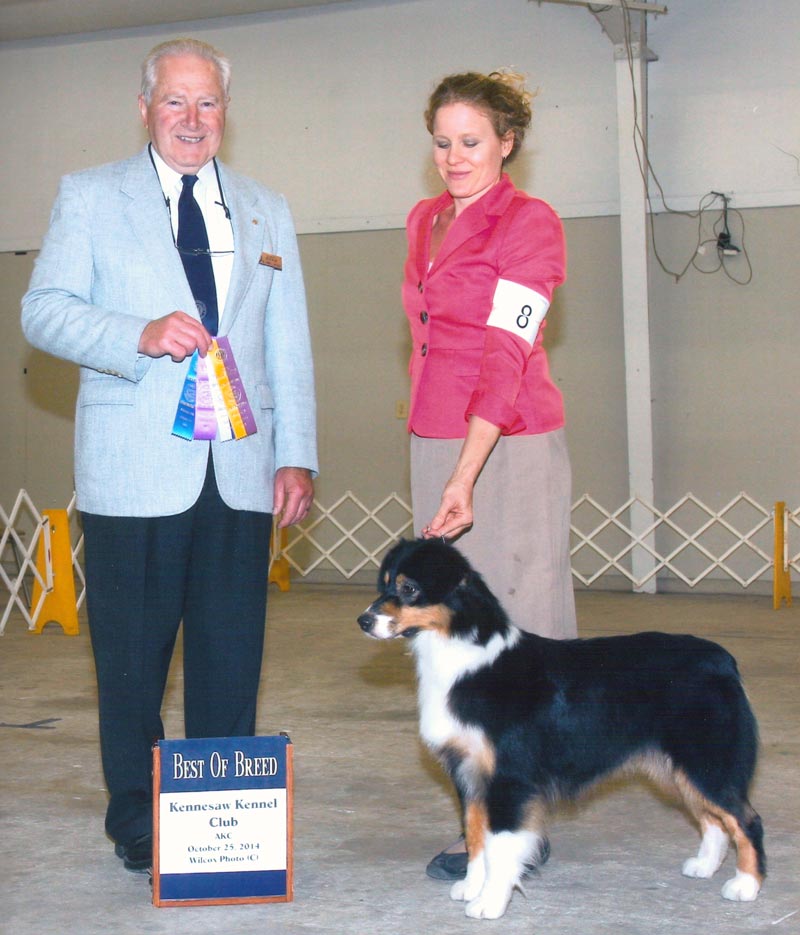 Parr WB/BOB. Thank you to AKC judge, Dr. Carmen Battaglia.
Parr: Best of Breed
07/01/13 - Knoxville, TN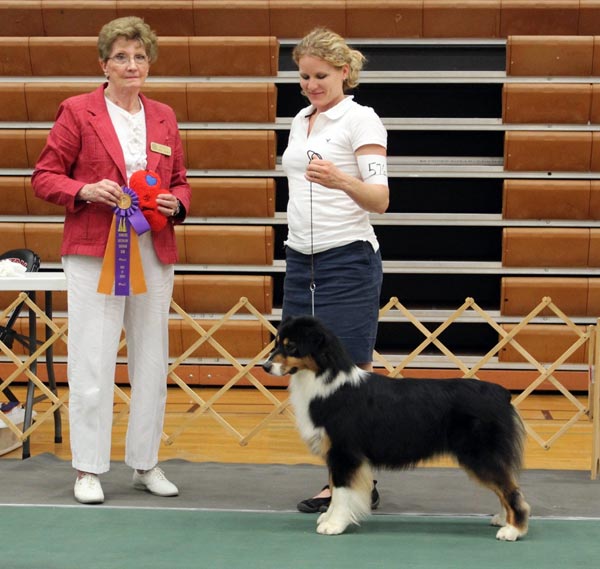 Parr takes Best of Breed in Knoxville, TN.
Parr: USASA 3rd Place 15-18
05/13/13 - Gray Summit, MO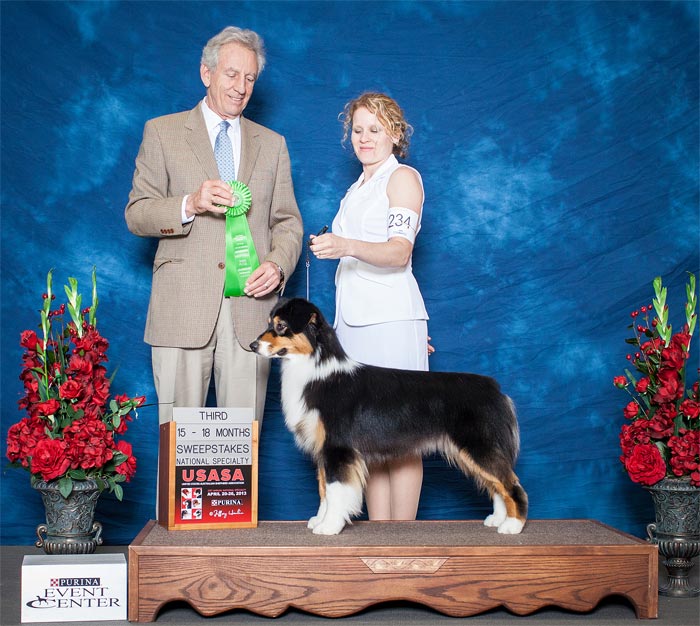 Tuesday, April 23 2013, at the USASA Nationals at Purina Farms, Parr was awarded 3rd place in the 15-18 month class under Judge James Moses.
New ASCA Champion: Parr
01/15/13 - Oak Ridge, TN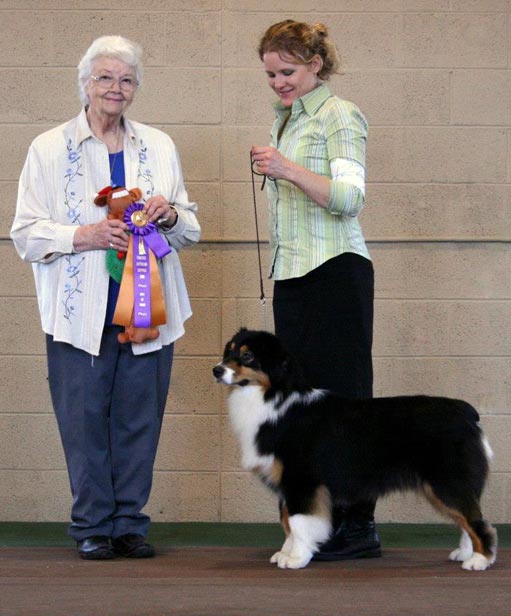 This past weekend at the Tenneessee Oak Ridge ASCA Show, Parr () made a statement! In the first show, she went Winner's Bitch, Best Of Winner's, and Best Of Opposite Sex to finish her ASCA Championship in just three weekends out under Judge Nina Van Camp. In the second show on Sunday, Parr went Best Of Breed her first time in the ring as a Special under Judge Betty Abbott.
We are extremely proud of our beautiful girl!!
GAASC
10/06-07/12 - Cartersville, GA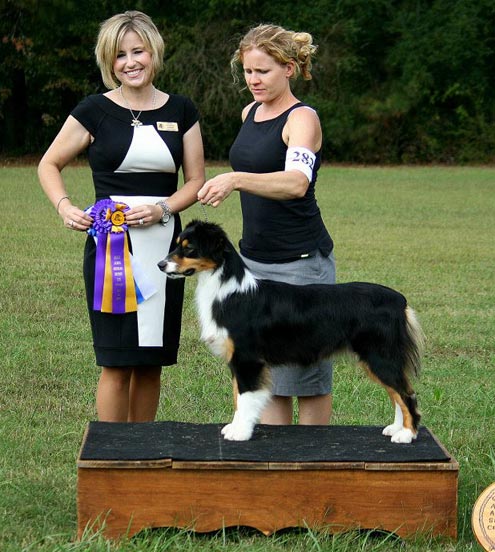 ASCA: Parr goes WB/BOW/BOB under judge Clarissa Shanks, RWB Erica Peters-Pruit and WB/BOW/BOS under Sunday Miles for her second and third majors.
Parr: 5 pt Major
07/08/12 - Flintstone, GA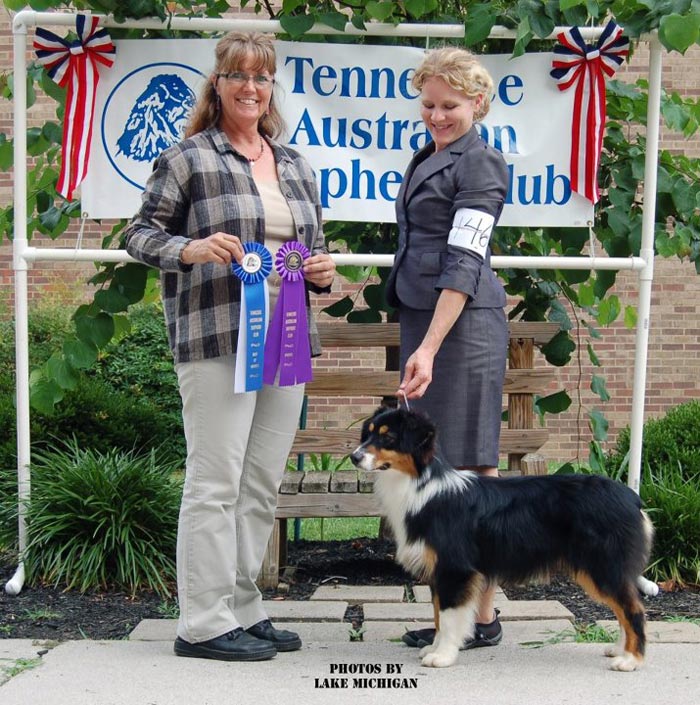 Our lovely girl, Vesper's Country Club "Parr", was Winners Bitch/Best of Winners for a 5 point major at the Tennessee ASCA show in June under ASCA Senior Breeder Judge Pamela Nelson at just a few days over 6 months old!!!