Vesper Australian Shepherds
Welcome to Vesper Aussies. We are a family who just loves Australian Shepherds. Our emphasis is on producing high quality Australian Shepherds according to breed standards, great family pets, and healthy dogs, fit for showing, working, and playing. All of our litters are exposed (on a daily basis) to a variety of livestock and other animals. Being on a small farm and raised with our kids, our puppies are very well socialized to humans, other dogs, cats, and all kinds of other farm-life. This kind of exposure is a key ingredient to not only building up the personality of our Aussie puppies, but also the reputation of the breed; our Aussies are happy, healthy, and self-confident.
Our own Australian Shepherds show in a variety of
AKC
and
ASCA
venues, and have either excelled themselves, or have come from quality bloodlines. Listed with our Aussies is a link to each dog's pedigree.
News & Events
Puppy Litter Announcement: Nora & August
03/19/18 - Flintstone, GA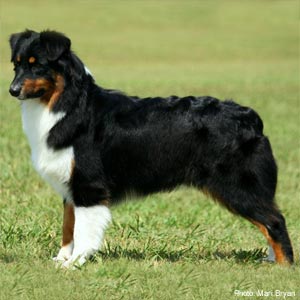 May 2018 Puppies
Nora () has been bred to August () for our Spring 2018 litter. Do not miss out on this beautiful litter! Nora has produced lovely performance and conformation dogs. August finished his AKC Championship in just 2 short months of showing, he has a wonderful sweet and loving personality. All four colors are possible in this litter.
Please contact us for more information on this litter.